INTERNATIONAL EXECUTIVE COUNCIL
The Church of God International Council of Eighteen is a body of 18 ministers elected from within the ranks of Ordained Bishops of the Church of God during the bi-ennial General Assembly. The Council of Eighteen serves with the International Executive Committee to form the International Executive Council, a body which establishes polity and directs the ministries of the Church. The IEC also includes the moderator of the Full Gospel Church of God in South Africa and the national overseer of Indonesia. Members of the Council of Eighteen are elected for two year terms and may be elected to two consecutive terms.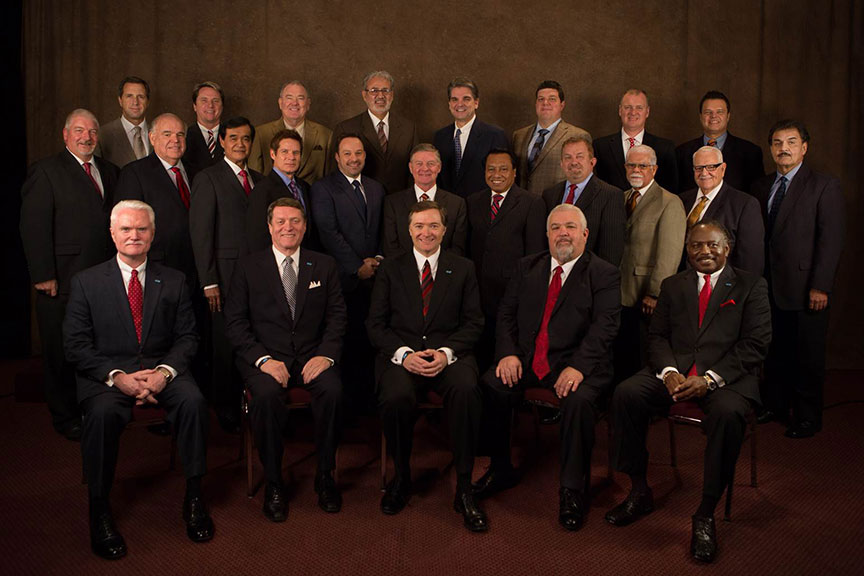 2014-2016 Executive Council
Seated, L-R: M. Thomas Propes, J. David Stephens, Mark L. Williams, David M. Griffis, Wallace J. Sibley. Middle Row, L-R: Nick Park, Dennis McGuire, Niko Njotorahardjo, David Cooper, Tony Stewart, Raymond Culpepper, Jacob Nahuway (Indonesian representative), William Isaacs, Victor Pagan, Dwight Allen, Oliver McMahan. Top Row, L-R: Thomas Madden, Chris Moody, Jimmy Smith, David Ramirez, Mark Walker, Kevin Wallace, Kip Box, Bryan Cutshall.
The 2014-2016 International Council of Eighteen consists of the following men, listed in order of their election and where they presently serve in ministry:
Kevin E. Wallace, senior pastor, Redemption Point, Ooltewah, Tenn.

Raymond F. Culpepper, state overseer, Alabama

David E. Ramirez S., field director, Latin America

T. Bryan Cutshall, President, Redemption to the Nations Institute, Chattanooga, Tenn.

Victor Pagan, Cleveland, Tenn.

Thomas A. Madden, state overseer, Delmarva-D.C.

Oliver L. McMahan, vice president, Pentecostal Theological Seminary

William E. Isaacs, Director, Center for Pastoral Excellence, Pentecostal Theological Seminary

Dwight E. Allen, senior pastor, Cooper City Church of God, Cooper City, Fla.

Niko Njotorahardjo, senior pastor, Gereja Bethel Church, Jakarta, Indonesia

Nick Park, pastor, Drogheda, Ireland

Chris Moody, senior pastor, South Cleveland Church of God, Cleveland, Tenn.

Tony D. Stewart, pastor, CityLife Church, Tampa, Fla.

David C. Cooper, senior pastor, Mount Paran Church of God, Atlanta, Ga.

Kip A. Box, pastor, Oak Park Church of God, Mobile, Ala.

Mark L. Walker, pastor, Mount Paran North, Marietta, Ga.

G. Dennis McGuire, international revivalist, Cleveland, Tenn.

Jimmy D. Smith, state overseer, Western North Carolina